Today, Valencia's Central Market stands out as one of the most grandiose markets in both Spain and Europe. Housed in a building that is a true jewel of modernism, this market is not only an architectural emblem, but also a vital commercial hub for the city's economy.
This majestic market, every day becomes the confluence point for a wide range of products and fresh food, displaying a spectacle of aromas, colors and flavors that delight the senses. In this guide, we will show you how to get to the Central Market of Valencia from Botánico Coworking, because discovering it is a unique experience.
Located in the heart of Valencia, Botánico Coworking not only offers you a relaxed and productive space to work, but also the possibility to explore the rich cultural and gastronomic heritage of the city. And what better starting point for this exploration than Valencia's emblematic Central Market?
How to get to the Central Market of Valencia
The Central Market of Valencia is located in the historic center of the city, exactly in the Ciutat Vella District, in the Plaza Ciudad de Brujas, s/n. It is very centrally located, so visiting it is easy.
From Botánico Coworking, the way to the Central Market is a pleasant walk that will allow you to discover the charm of the Ciutat Vella District. But if you're in a hurry, several bus lines and nearby metro stations will drop you at the market's doorstep in just a few minutes.
In addition, you can access the Market through any of its doors located at:
Palafox Street.
Old Straw Street.
West Avenue.
The City of Bruges square.
The Market Square.
Calabazas Street.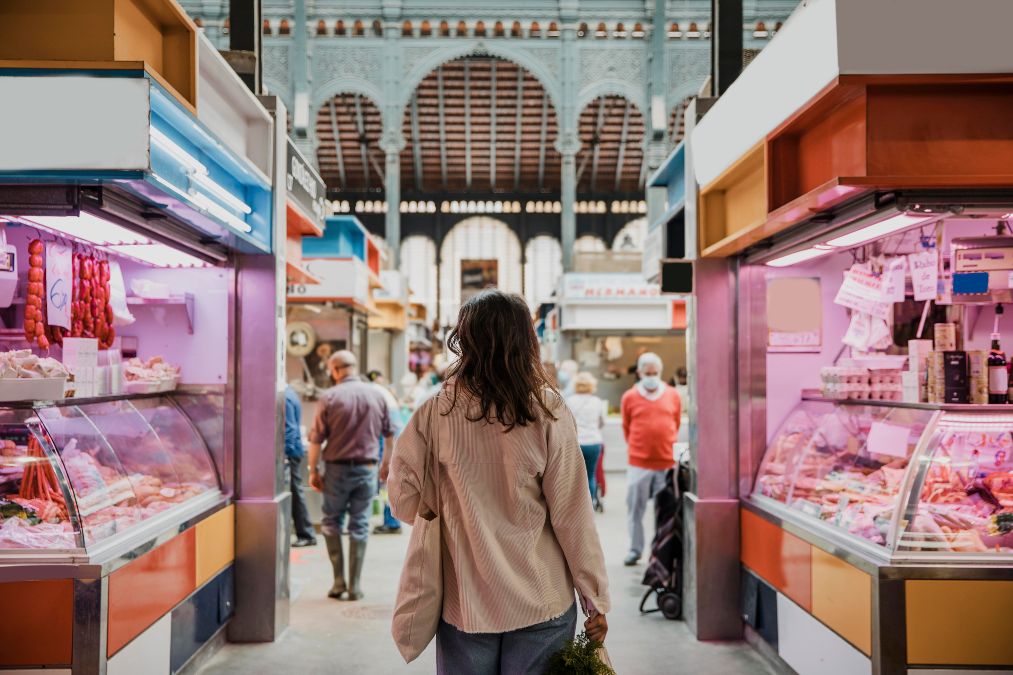 Are you in the city center?
If you are located in the city center, you can take a pleasant walk to the market. It is located near two emblematic monuments, right in front of the Lonja de la Seda and next to the Church of Santos Juanes. Its eastern facade overlooks the Plaza del Mercat.
How to get to the Central Market of Valencia by bus?
Several bus lines stop near the Central Market of Valencia. You can opt for line 7, line 27, line 60, line 62 or line 73. All of them will take you to the west side of the market, and from that point, you can easily access the interior of the building.
How to get to the central market of Valencia by metro?
In the vicinity of the Central Market of Valencia you will find several metro stations:
You can take lines 1, 2, 3, 5 or 9 and disembark at Angel Guimerà station, which is a short 6-minute walk from the central market.
Another option is to stop at the Colón station, located a 7-minute walk from the market.
How to get to the central market from Botánico Coworking?
From Botánico Coworking, head south on Carrer de les Comèdies towards Carrer de Quart.
Turn right towards Carrer de Quart.
Continue walking along Carrer de Quart until you reach the Plaza del Mercado where the Central Market is located.
This walk can take about 15 to 20 minutes and will allow you to enjoy the architecture and atmosphere of downtown Valencia.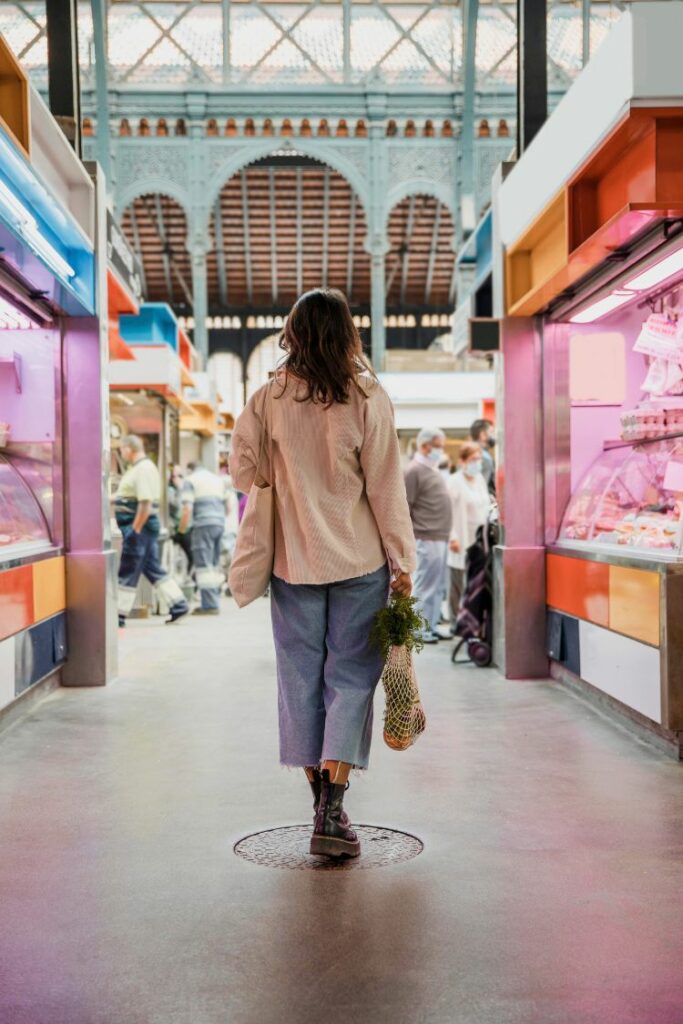 What to discover in the Valencia Market
When you walk through the doors of the Central Market of Valencia, you enter a real Eden of gastronomic delights. The abundance and diversity of fresh food and of high quality The restaurant offerings are truly impressive, making this place an invaluable resource for both locals and fine dining restaurants in the surrounding area.
But that's not all, the market is also a feast for the eyes. With its construction dating back to 1914, it stands out as one of the most representative buildings in Valencia, proudly displaying its modernist design.
It is much more than a simple marketplace; it is a sanctuary dedicated to the gastronomic trade. The structure with its domes rising 30 meters high, the columns, and the conjugation of glass and metal, are arranged in such an artistic way that they can compete in beauty with other monuments of the city.
What gastronomic varieties will you find in the Central Market?
The wide range of stalls in Valencia's Central Market places it among the ten largest markets in Europe. Precisely, you will be able to explore a diversity of establishments dedicated to the sale of:
Poultry and poultry products.
Fish and seafood.
Butchery.
Fruits and vegetables
Nuts.
Delicatessen and cheeses.
Snails.
Bakery and pastry.
Gourmet, grocery and frozen products.
Spices and herbalists.
Salted and pickled products.
Casquería.
International products.
Products to drink or take away.
You will also get non-food stores, such as:
Perfumeries.
Souvenir stores.
Cosmetic products stores (balms, essential oils, CBD oils…).
Ceramic stores.
Jewelry stores.
Shoe stores.
Paella stores (pots and pans).
Hardware stores.
Trade of jars and ceramics.
Stores of philately and numismatics.
In total, 252 stalls are deployed, with 94% dedicated to the commercialization of food and the remaining 6% to non-food products. In addition, you will find some gastronomic options where you can taste local delicacies in the Central Market of Valencia.
What time does the Central Market of Valencia open?
The Central Market is open from Monday to Saturday, from 7:30 am to 3:00 pm. In addition, you have the option of ordering online through their official website or via email.
Where to eat in the Central Market of Valencia
The proximity of the Central Market to Botánico Coworking offers you a unique opportunity to immerse yourself in local life, explore Valencian gastronomy and find inspiration outside the four walls of the coworking space. So, take a break, go out and explore and let the vibrant streets of Valencia refresh your entrepreneurial spirit.
With more than 8,000 square meters dedicated to commercial spaces, the Central Market of Valencia is not only an epicenter of freshness and quality products, but also a gastronomic corner where you can taste the local food. You will discover charming stalls offering a variety of freshly prepared dishes, such as paellas, tapas and sandwiches, as well as traditional drinks such as horchata.
Undoubtedly, the Central Market of Valencia is a destination that deserves to be visited, admired, enjoyed and savored, offering a culinary experience that captures the essence of Valencian tradition.